Last updated: 06/11/10
Looking for Keith's main page? Drop me a note at keith@nwcricket.com
Keith's favorite band, "THE LISTENING" Pictures on the musiclist.html
Looking for tons and tons of pictures from concerts to Creationfestwest past, Festival Condios, and lots more? Check out these! (musiclist)
These days, it's Myspace and Facebook, after the .com put in "nwcricket" to see more pictures and stuff about us. Here are the links: Myspace Facebook and you don't have to be a member to see the photos but need to be to see some of the info but there's TONS of pictures on my Myspace. Myspace is more band stuff and Facebook friends and family
Larry Norman passed away 2-24-2008
Read about his memorial service that we went to.
And our favorite picture: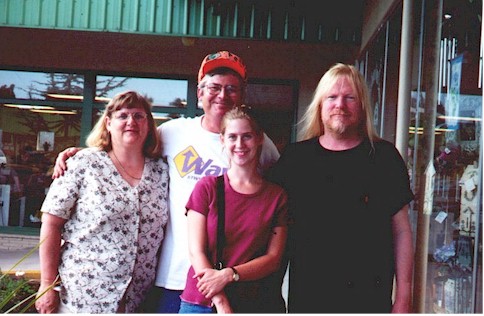 Taken before Larry's health probs, for the latest info: larrynorman.com
One other band that started out playing in store parking lots, with no provided hotel rooms, having to stay at homes on the road. Oh yeah, did I say they play on MTV now? Click here Here they are in front of our house, summer of 1997 after eating the nearly famous omelets.
Remember the 93.3 WAY Days? Wondering where they are now?
And as always, you can get a hold of Keith at keith@nwcricket.com (same address as above)
Lord Bless and Abide (He promised)!
(A.K.A. Orange Hat)